There is a great deal of preparation that goes into a dinner gathering, but who has time to prepare a three-course meal on such short notice?
If you're go-to catering service just so happens to be closed for the day, don't despair. We have discovered some of the top recipe trends this season and provided a hassle-free microwavable version of each recipe below.
If going the extra mile for your guests is your style, then we have just the recipe for you by Taste of Homes.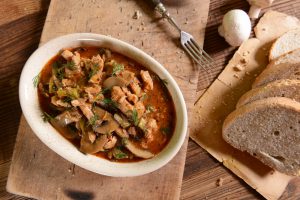 Some ingredients you'll need include:
2 tablespoons butter or margarine
1-1/2 pounds boneless beef sirloin steak, cut into thin strips
1/4 cup all-purpose flour
1 envelope onion soup mix
2-1/4 cups hot water
1 can (4 ounces) mushroom stems and pieces, drained
1/2 cup sour cream
First, you'll need to melt the butter in a microwave-safe bowl for one minute. Once the butter has melted fully, arrange the meat evenly in a microwave-safe bowl and pour the melted butter evenly on top of the meat. Then, microwave the mixture uncovered on high for 6 minutes and stirred the mixture at 3 minutes.
After the cooking time has ended, remove the meat with a slotted spoon and put it in a container to keep it warm. Then add flour and soup mix into a bowl and mix until blended. Gradually add water to the mixture and stir until smooth.
Once the mixture is smooth, add the mushrooms and the cooked beef. Cover the bowl and microwave on high for 18 minutes and pause the cooking time every so often to stir the mixture.
When the dish is fully cooked, add sour cream and serve.
Bring a touch of Italy to your home with this simple yet delicious mushroom risotto recipe from Brit + Co. This recipe yields 4 ramekins of risotto, so it is perfect for sharing during a busy work week.
Some ingredients you'll need include:
2 tablespoons butter
1/2 onion, finely chopped
2 garlic cloves, finely chopped
1 cup Arborio rice
2 cups broth
1/2 cup white wine
1/2 cup Mushrooms
1 teaspoon Thyme
1/8 cup Parmesan cheese
Start off by placing 1/2 tablespoon of butter to each ramekin of the four ramekins and adding a spoonful of onions. Cook in your microwave for 1& 1/2 minutes on high. Make sure to stir the onions in each ramekin after 30 seconds to distribute the melted butter.
Once the onions are finished cooking, add garlic, 1/4 cup rice, and 1/4 & 2 tablespoons broth. Cover each ramekin loosely with microwave-safe plastic wrap and heat in the microwave at 50% power level for 2 minutes, then remove each ramekin from the microwave and stir before repeating the heating process again. Add 2 tablespoons of wine to each ramekin and the mushrooms. Cover each dish again and heat for 2 minutes Lastly, add your thyme and microwave for 1 minute.
Top off your dish with parmesan cheese and enjoy!
After two delicious courses, we have just the cake to end your guest's night right. Kirbie Cravings provides a peanut butter mug cake recipe that is sure to please any crowd. The best part is that each cake is made separately so you can ensure there is enough to go around.
Some ingredients you'll need include:
4 tablespoons all-purpose flour
4 tablespoons white granulated sugar
1/4 teaspoon baking powder
1 egg
3 tablespoons peanut butter
3 tablespoons milk
3 tablespoons vegetable oil
Preparation for these cakes could not be more straightforward and are stress-free.  Simply combine all ingredients listed above in a coffee mug. Mix the ingredients until the batter appears smooth, then microwave on high for 2 minutes.
After the allotted cooking time has finished, poke the cake with a toothpick to see if it is fully cooked. If there is batter on the toothpick, place the mug in the microwave for an additional 30 seconds.
Once the cake has cooled, flip the mug upside-down onto a plate and tap the bottom lightly until the cake releases onto the plate.