Microwave oven placement can be an important decision when upgrading your kitchen appliances, especially if space is at a premium. This article addresses the pros and cons of microwave drawers in comparison to the countertop, over-the-counter, and over-the-range models. 
If you're considering buying a microwave oven, there are a variety of makes, models, types, and styles from which to choose. If you are considering upgrading your kitchen design, bringing in modern appliances, and making your home more functional, there is only one choice: a microwave drawer.  In this blog post, we will be highlighting the differences between microwave oven models and reviewing the pros and cons of owning a microwave drawer. 


A microwave oven is an essential appliance for most kitchens. It is your everyday way to reheat food and warm beverages. Microwave ovens come in different types and price points, but none compare to the microwave drawer. Here's why: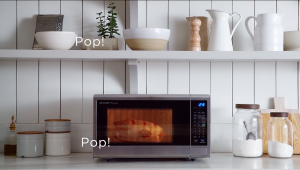 A countertop microwave oven is a traditional microwave oven in any kitchen design. It can sit on any surface (countertop, table, island) as long as it is located near a power outlet. These microwave ovens are fairly basic and typically inexpensive. However, most countertop microwave oven models cannot be built into a cabinet. 
An over-the-range microwave oven is mounted on the wall, between cabinets, and sits above your oven. These microwave ovens are more complex, require a more involved installation, and typically have some type of ventilation system. 
A microwave drawer is designed to fit perfectly under a counter, and placed into a lower cabinet or kitchen island. This allows for cleaner counter space, improved functionality, and a more modern overall ascetic. These drawer-style microwaves typically have more available features than a countertop or over-the-range microwave oven and add an eye-catching element to your kitchen cabinetry. 
What Are Some Pros and Cons of Owning a Microwave Drawer?
First thing first, in our opinion, there are very few drawbacks to owning a microwave drawer. Unlike buying a car, you will not find that by purchasing a microwave drawer you are missing out on potential safety features, luxury comfort, or a spacious interior (because the interior of a microwave drawer is surprisingly large). 
In fact, you get all the same benefits as any other microwave oven style, just with added benefits. So as with any appliance, it's about finding the one that meets your personal needs and budget. 
Additional Countertop Space
A microwave drawer is a wonderful solution for the chef who never seems to have enough counter space. It fits beautifully into a lower cabinet under a counter, kitchen island, or below a wall oven, sitting flush with the cabinet doors or drawers. The Sharp Stainless Steel Easy Open Microwave Drawer Oven even offers an additional 30" of counter space for food prep with their Extension Kit. 
Functionality Meet
s
 Accessibility
Are you left-handed? Vertically challenged? Have trouble lifting heavy items? A microwave drawer is a great choice for any of these situations: 
The appliance opens out, unlike a traditional microwave oven door that swings

 open

on a hinge. This makes opening and closing the microwave oven much easier for people who are left-handed.

 

People who are shorter may have trouble lifting heavy dishes into an over-the-range microwave oven. A microwave drawer eliminates that problem since you just place the item into

 a

 drawer that is no higher tha

n the average countertop. 

 

This is also good for people who have back problems or feel to

o

 weak to lift heavier items into a microwave oven that is on the counter or over-the-range.

 
Modern, Sleek, Stylish
Microwave drawers are elegant, low-profile appliances that complement the style of any kitchen. The Sharp Stainless Steel Easy Open Microwave Drawer features concealed, touch glass controls. The controls are positioned at a 45-degree angle for convenient use. The black glass, stainless-steel finish, and bright, LED interior lighting make this look like a high–end, luxury appliance. The glass also allows for easy cleaning. 
Safer
Parents may feel unsure about placing a microwave oven at the eye level of their children. This problem is easily solved with a control lock that allows parents to prevent unwanted microwave drawer operations. This can be set as the default so that only adults can operate the appliance. 
Easy Wave Open
The Sharp Stainless Steel Easy Open Microwave Drawer is the first micro-wave. Sharp has created an appliance that allows for touchless operation. Simply wave up and down near the motion sensor and the microwave drawer will glide open. With the touch of a button or a gentle nudge, the drawer smoothly closes. And the appliance stays closed when you walk by, so children and pets won't accidentally open it. 
Spacious Interior
A common concern about microwave drawers is that the cavity is too small. This does not apply to the Sharp Stainless Steel Easy Open Microwave Drawer as the microwave oven is tall enough for a 20-oz tall coffee cup and can fit a 4 qt. casserole dish.  
No Turntable Function
Microwave drawers do not have turntables because the magnetrons are located on the top of the appliance, instead of on the sides like on a countertop or over-the-range microwave oven. What is a magnetron? It is a high-powered vacuum tube that generates microwave ovens using the interaction of a stream of electrons with a magnetic field while moving past a series of open metal cavities (cavity resonators). In layman's terms, it's what heats your food. Microwave drawers contain newer technology that doesn't require a turntable to heat food all the way through, but it's something to be aware of if you are used to a traditional microwave oven. 
Installation Assistance Required
The installation of a countertop microwave oven is very simple, it has two steps. Step one, take the appliance out of the box. Step two, plug the appliance into a nearby outlet. You're done. Installing a microwave drawer under a counter is more complicated and may require the assistance of a licensed electrician. For more information, watch this video from the Home Depot that briefly explains the process of installing a Sharp microwave drawer. 
Price
A microwave drawer provides additional countertop space, safety features, and a modern look for your kitchen, but it also comes at a higher price. According to Angies List, the average microwave oven, depending on make, model, and available features can cost anywhere between $100 and $500. Premium, full-featured models, like the Sharp Stainless Steel Easy Open Microwave Drawer, may come with a higher MSRP attached.  If you are only evaluating microwaves based on cost, there are more affordable options available. But a microwave drawer is a premium product with premium benefits, and therefore deserves different consideration. 
There is no wrong choice when selecting a microwave oven, and microwave drawers present a very versatile option for modern cooking needs. A drawer-style microwave is a top–of–the–line appliance, beautifully designed, and equipped with safety features and additional functionality that are not offered in a countertop or over-the-range microwave oven. Of course in the end, as always, it is about selecting the appliance that best fits and benefits your needs and lifestyle.