This time of year, I can always use a little cheering up as I anticipate the arrival of summer, leaving behind the cold weather and shorter days. One thing that I know I can always count on to provide some much-needed comfort and stress relief is a sweet treat. In the past, I often found my favorite desserts would be impossible to make in my microwave oven during college. It was so unfortunate.
Luckily, I found some tasty recipes that I could create using my Sharp Countertop Microwave Oven.  Check out some of my favorite microwave dessert recipes below and tag us in your delicious microwave creations by using the hashtag #sharphome on Instagram, Facebook, and Twitter and tagging@SharpHomeUSA.
Vanilla Mug Cake
I am starting with the vanilla cake because that is my ALL TIME favorite classic dessert. Ever since I was a kid, I remember enjoying a traditional vanilla cake on a limited occasion due to the inconvenience traditional baking sometimes brings. After finding this recipe from "Taste Better From Scratch" that takes less than 5 minutes, you and I can now eat it more often.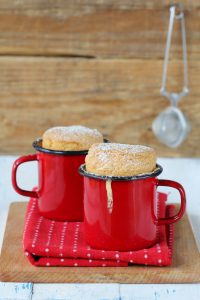 Go ahead and gather these few quick ingredients so we can begin!
Microwave safe mug
Baking powder (1/4 tablespoon)
Dash salt
Milk (3 tablespoons)
Melted butter (2 tablespoons)
All-purpose flour (1/4 cup and 1 ½ teaspoon)
Sugar (2 Tablespoons)
Vanilla extract (1/2 tablespoon)
Sprinkles (1 teaspoon)
Once you have all your ingredients gathered, you may begin the 5-minute countdown!
Get your mug and add the sugar, flour, baking soda, and salt together. Once all ingredients are in, mix until well blended.
Next, add in the milk, melted butter, and vanilla extract. Stir together until the mixture is well blended by circling the mug to ensure no batter is left unmixed at the bottom of the cup. Once thoroughly mixed, add and stir in the sprinkles.
Once all ingredients are all placed in the mug, the final step is to put it in the microwave. Cook your mug cake for about 70-90 seconds. You will be able to tell when it is ready when the cake is set and barley shiny on top. Allow the cake to cool for about 1 minute before digging in.
Chocolate Chip Mug Cookie
This chocolate chip mug cookie recipe from "Dessert Now Dinner Later" could serve as the PERFECT after dinner or late-night snack. Some ingredients that you will need to have handy to enjoy this warm and yummy creation include:
A microwave-safe ramekin (your favorite mug will also work)
Chocolate chips (2 tablespoons)
1 Large egg yolk (egg white cannot be substituted in)
All-purpose flour (1/4 cup)
Salt (1/8 teaspoon)
Vanilla (1/8 teaspoon)
Melted unsalted butter (1 tablespoon)
Granulated sugar (1 tablespoon)
Brown Sugar (1 tablespoon)
Let's begin the simple steps!
First, add the butter, both sugars, and egg yolk into the ramekin.
Next, add the salt, flour, and chocolate chips into the dish. Mix all ingredients and press the top of the batter until it is smooth and flat. If you're a chocolate lover like I am, I suggest adding more chocolate chips to the top
Finally, cook your mug cookie for 40-60 seconds in the microwave. Once the cooking time is complete, allow the mug to cool for about 1 minute.
Blueberry Mug Muffin
If you are looking for something a little more suitable for the morning, I highly recommend trying this blueberry muffin recipe from "The Typical Mom", who has also dubbed this creation as "Breakfast in a mug". This classic dessert is perfect for any time of day and always hits home. You know the drill by now, please gather the following ingredients.
Microwave safe mug
All-purpose flour (1/3 cups)
Blueberries (1/4 cups)
Milk (1/4 cup)
Sugar (2 ½ tablespoons)
Brown sugar (1 tablespoon)
Vanilla (1/2 teaspoon)
Melted salted butter (2 tablespoons)
Baking Powder (1/4 teaspoon)
Grab your mug and mix the flour, two sugars, and baking powder.
Next, pour the melted butter, milk, and vanilla into the mug. Stir them until there is no powder left and only batter.
After that, carefully place the blueberries.
Finally, place it in the microwave for 2 minutes and enjoy it right away!
Cheesecake
Growing up in an Italian household, I was given no other choice but to always leave room for cheesecake at the end of every meal. Whether it is considered Italian cheesecake or not, I felt like I had no other option but to leave room for the "Homestead Lifestyle's" recipe within this recipe roundup. While this one may take a bit more time, it is all worth the nice and creamy result. Let's get started! Open your cabinets and grab the following:
Small bowl
Small side plate
Microwave safe baking dish or mug
Cream cheese (4 ounces)
Graham crackers (2)
Melted butter (1 tablespoon)
Sugar (2 tablespoons)
Vanilla (2-5 drops)
Raspberries, Strawberries, or Blueberries
Knife
Spoon
Here are the steps:
Melt the butter and place it into the small baking dish or mug.
Grab the small bowl and place the graham crackers in there. Crunch them together, using your hands and fingers.
Place the crushed graham crackers into the melted butter. Mix them and use the back of the spoon to flatten out the bottom of the dish.
In the small bowl, mix in the sugar, cream cheese, and drops of vanilla.
Use the spoon to spread the mixture over the crumbs. Make it thin and flat.
Set microwave power to 50% and microwave in 4-minute intervals, totaling 4 minutes.
After you are done using the microwave, place it in the fridge for about an hour to chill.
Use a knife to smoothen out the sides and place it on the side plate. Tip it over, using a spoon, so the cheese layer is on top.
 Keto Carrot Mug Cake
This keto carrot mug cake recipe is perfect for sharing with a friend or loved one, but feel free to indulge in it yourself. This recipe from "Sugar-Free Londoner" offers a sweet and sizable treat.
Is this the perfect option for you? Let's test it!
Pyrex glass bowl or (2) ramekins
Shredded/grated carrots (1/2 cup)
Melted Butter (2 tablespoons)
Handful walnuts (10 grams)
Cinnamon (2 teaspoons)
Almond flour or ground almonds (3/4 cups)
Double/heavy cream (1 tablespoon)
Powdered erythritol (2 tablespoons)
Baking powder (1 teaspoon)
Pumpkin spice (1 teaspoon)
Egg (1)
Optional: Fat-Free Cream Cheese (2 tablespoons)
Follow these steps to get this beautiful creation:
Gather all your dry ingredients, which include almond flour, cinnamon, baking powder, crushed walnut pieces, powdered erythritol, and pumpkin spice. Mix together well.
Next, add the grated carrot melted butter, cream, and egg. Once they are mixed, they will create a batter.
Grease the bowl using melted butter and microwave it. (5 minutes at 800W or 6 minutes at 700W)
Take it out of the microwave and turn it upside down onto a plate. Here you have the option to frost the cake with fat-free cream cheese.
Finally, decorate it with crushed walnuts and shredded carrots.
Are you ready to try and make of these creations and cure your sweet tooth? Tell us by using #sharphome. Let's eat!