Are you looking for a dish that will impress your guests? Here at Sharp, we love trying new and delicious recipes. Lucky for you,  we partnered with Michelle Miller of Sunkissed Kitchen to make the search easier. From dinner to dessert and everything in between, we have you covered. This Stuffed Acorn Squash dish is the perfect addition to make your next dinner party simply better!
What You'll Need:
Acorn Squash
Avocado Oil

Celery
Onions
Garlic
Green Apples
Spicy Italian Sausage (use your favorite sausage here!)
Cranberries
Chicken Broth
Herbs to garnish (I use parsley and fresh thyme)
How to cook Stuffed Acorn Squash in a Sharp Wall Oven
Acorn squash is simple to prepare. Its flesh is thin, and the peel is ribbed, so it's not squash you should try to peel. Simply cut it in half, remove the seeds, season it, and bake it. Once it's cooked, it's creamy and soft and will spoon out of the peel easily. It takes a while to bake, so pre-bake it prior to adding the stuffing, then return it to the oven to quickly heat the two together and allow the stuffing to brown.
I used my Sharp Induction Cooktop for the sausage stuffing, and then Sharp European Convection Wall Oven to bake the squash and cook the stuffed acorn squash.
These two make a stunning combination and make preparing healthy meals a breeze. The appliances have a wide range of features, from smart timers, to pre-programmed cooking settings. The oven can be used for convection baking (which I use when making things like roasted vegetables), or on standard bake settings.
Learn more at Sharp Home USA to see how these luxury appliances are the right fit for your dream kitchen!
How to Make Sausage and Apple Stuffed Acorn Squash
Step 1: First, cut the acorn squash in half, and remove the seeds with a spoon.
Step 2: Add the squash to a lined baking pan, and spray them with avocado oil, then generously season them with salt and pepper. Bake the squash for 40 minutes, until soft and creamy.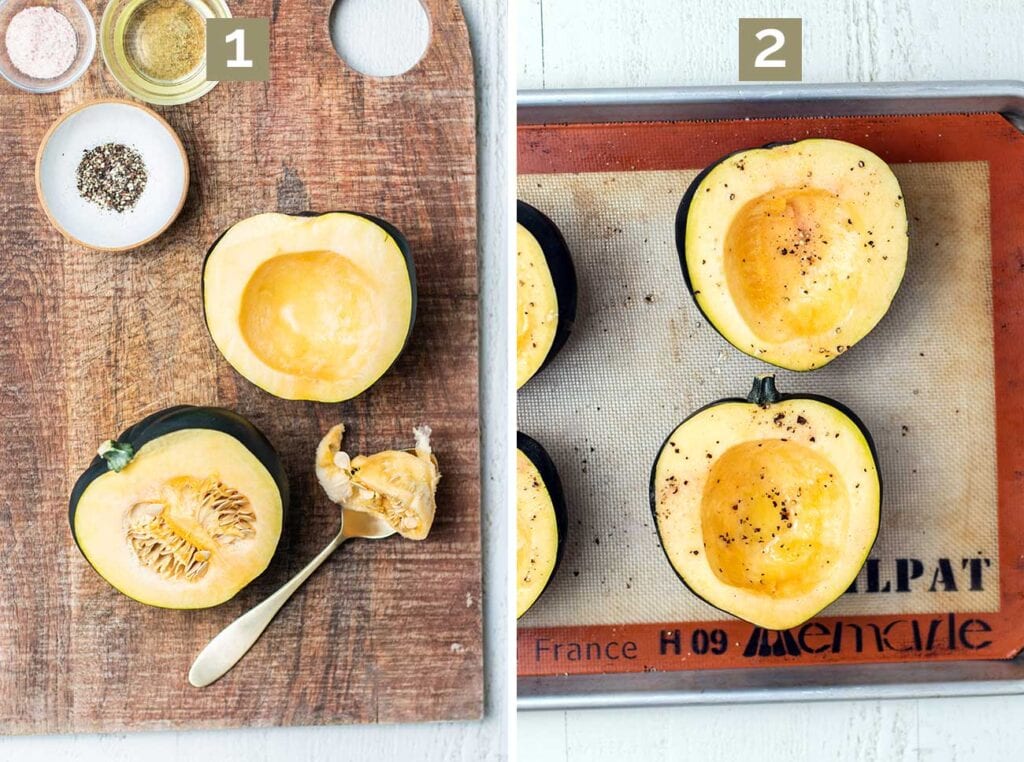 Check out the full blog post on Sunkissed Kitchen.