Do you like Italian food? I do, but I'm Italian, so I just call it "food." Still, I have strong opinions about Italian food. For me, the "best" Italian food is the "worst" Italian food. It's a cute little play on words, but it works forwards and backward, depending on what you mean by "best" and "worst".
Some would say the best Italian food was a $50 bowl of pasta covered in gold leaf and served in a bed of edible flowers in the best restaurant by the best celebrity chef. To me, that is the absolute worst kind of Italian food!
So, if that is your best – then give me your worst! For me, good Italian food starts at the supermarket, not the farmer's market. Lasagna is love, not labels. Ordinary ingredients come together to make something extraordinary. Italian food, especially lasagna is far greater than the sum of its parts. I don't spend 2-days shopping. I don't buy expensive cheeses from gourmet shops. I don't grate the mozzarella. I don't even make my own tomato sauce. But when I'm finished, I promise you, I make a lasagna that will warm your soul.
Italian food is at its core, simple and inexpensive with a clear message of comfort. It is food that was available to peasants; indeed, perfected by peasants, to be enjoyed by their own families. Even the Italian-American variations were the creations of humble Italian immigrants using ingredients that were new to them, in order to provide for extended family communities in a new country. Any attempt to "elevate" it, in my opinion, is doing yourself a disservice. I don't want to see a "deconstructed" lasagna. I don't mind if you call it, "Pasta Al Forno", as long as no-fuss, baked ziti comes to the table. And keep all heretical molecular-gastronomy far, far away from my spaghetti! No scoop of "fermented cheese foam" or "gelee tomato caviar" will improve a bowl of linguini that I want to eat.
My strong and clearly stated morals, seem to have left me with a moral dilemma. Most times, when you want to make something, anything "extra special", you start by making it more expensive. Use more expensive parts. Present it in a more expensive way, in a more expensive place. Frequently, I am guilty of this myself. But does throwing money at it, make it special? Or is it the least creative way possible to try and make something special? So when I want to make a lasagna extra special, what do I do? How do I stay out of the same trap which I so vocally oppose?
Do you look at rolled foods in amazement? Not just tubes like sushi or churros, but rather spirals. I do. I don't know why, but flipping through Pinterest, or while watching cooking competition shows, I always pay a little more attention to rolled preparations. And while the concept of "the roll" is visually stunning, a show-stopper even, it rarely contributes anything beyond appearance. Any rolled cake could, more easily, have been a layer cake. Any braciola or roulade could be more easily prepared saltimbocca, scallopini or piccata. Any cordon bleu could be more easily prepared as a cutlet or schnitzel.
Perhaps, that is the point, after all, making an effort makes it special. A good intention, combined with the risk of failure, just to make something visually stunning for someone else, is noble. Sometimes that is all we can do to make something special. After all, the ingredients are the same, cost the same, but you somehow turned an ordinary task into an extraordinary gift. It is a chance to say, "This thing that I made could have been easier, but I wanted to make it special for you."
Now, the last time we made a rolled food in the Sharp Superheated Steam Countertop Oven, it was the Cherry & Blueberry Pancake Rolls. This served to elevate both form and function as a convenient way to make an undetermined amount of pancakes, all served at the same time, without the stress of real-time preparation and kitchen wizardry. "Attractive & Practical" is a nice category for a recipe to be in, and I want to make more of them.
Let me just get all of the controversial stuff out of the way. This lasagna is fast. This isn't just for parties or weekends. This is accessible every night of the week, and here is how I make that possible.
The Controversial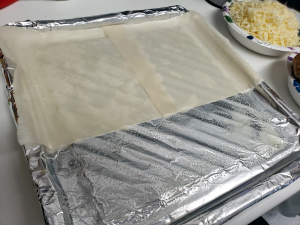 Spring Roll Wrappers.  Breathe. Stop screaming. A couple of things. Yes, there are no-boil noodles. And Yes, we have all figured out that ALL noodles are no-boil noodles if you add extra water to the casserole dish. But this is not just about speed, but choices. Fundamentally, lasagna is not really about the noodles. You've never had a piece of lasagna and said, "It was nice, but those noodles were amazing!" So we can de-emphasize them a little bit. Also, read your ingredients. Spring roll wrappers are made of flour, water, oil, and salt. So clearly we are working with a pasta product like any other. However, Spring roll wrappers are much thinner and much bigger than lasagna noodles. An 8-inch square Spring Roll wrapper is about 60 calories, while the equivalent lasagna noodle ranges between 100-160 calories. I actually use them a lot. They make great ravioli, great tortellini, Stracci di Pasta or Cencioni which are the "Pasta Rags" that you would find in a French ragout… and traditionally they are broken lasagna noodles anyway. You can even cut the leftover wrappers into triangles and bake them into chips and crackers.
There are people who would tell you that Spring Roll Wrappers and Egg Roll Wrappers are the exact same thing. They are made from the same ingredients, but Spring Roll Wrappers are thinner. At least they are supposed to be. I have purchased things labeled Spring Roll when they were clearly Egg Roll. Sometimes they have incorrectly attributed the wrong word in English at the Asian market. You should be able to see your hand through a Spring Roll wrapper. Of course, as a replacement for lasagna noodles, either Spring Roll or Egg Roll wrappers would be fine. Both will easily have cooked by the time that the lasagna is done.
Store-bought tomato sauce. Pause. Stop screaming. I admit that I am of a certain age where such thoughts were heresy. However, times have actually changed. There truly are several good-to-very-good pasta sauces on the market today. Choose the brand with the shortest list of ingredients that you understand. The shorter, the better. The one I use looks like this: Whole peeled tomatoes, olive oil, onions, salt, garlic, basil, black pepper, dried oregano. All simple, natural ingredients. This one may not be marketed as such, but it just so happens to be vegan as well. Now, I'm going to be more candid than usual here. I know for a fact because I have watched the process myself inside the factory. I am telling you that I have seen the exact same tomato sauce be poured into 2-different size jars which then received 2-different labels. The labels are for 2-different national brands, and they name this same sauce 2-different things. The smaller jar is sold on a shelf at eye-level in the supermarket. The one in the bigger jar is sold beneath it on a shelf near the floor for $2 less. Same stuff. READ your labels. CHECK your ingredients.
Frozen meatballs. Go to your happy place. Stop screaming. This is actually not only in the interest of expediency. I know that some people prefer to cook up ground meat in a skillet as if they were making tacos, but I am not a fan. To me, that makes the meat feel like an additive. I prefer to bite into something. Meatballs, properly prepared and seasoned bring so much more to the experience than just granules of beef with no larger purpose. This is the same reason why I don't choose a Bolognese sauce. Also, this is where I feel more comfortable making healthier choices. I used gluten-free, turkey and spinach meatballs. Here in the lasagna, it was a good choice that didn't leave me feeling cheated or having sacrificed any real flavor.
Shredded Mozzarella (or Italian Blend) Cheese. Mom? Is that you? When did YOU get here? Yes, it is less expensive to purchase a block of cheese. Yes, better choices tend to be less processed foods. I hear you. I did promise this would be a fast and accessible recipe, so if I can take a little help from the grocery store, I will. Also, while I agree that grated cheese is more processed and spends more time in the factory, nothing should be added. Read the ingredients. Some manufacturers add starches or cellulose to keep the shreds from binding together. I would avoid those. You could choose leaner, lighter cheese options – but I wouldn't. The cheese is not where you want to sacrifice.
The Divisive Sauce
The truth is, Italians would say that most of us aren't eating "lasagna." An actual lasagna with Italian origins is not made with ricotta cheese, it is made with a bechamel sauce ("besciamella" in Italian). Sometimes, people add cheese to it to make something suspiciously close to an Alfredo sauce… which some people also use. And while the ricotta version had existed regionally in Italy, it was only made famous in the US when it was included in a Polly-O Recipe Book in the early 1950s. Since then, ricotta has been the sauce of choice to Americans and Italian Americans, infuriating purist Italian chefs for years.
Myself, I am an Italian American, and I like the ricotta cheese sauce. Neither the besciamella nor the ricotta cheese sauce is a good healthy eating habit, but the ricotta version is gluten-free. So I am going with that. While the recipe is below, you can basically see it for yourself right here.
The Daring Bit
Besides the economy of motion and expediency of ingredients, the real time saver here is the Sharp Superheated Steam Countertop Oven. The wide cooking surface and the low profile keeping the heating elements closer to the food make this a 20-minute lasagna. Think about it. We are only really cooking one layer, and on that layer, the Spring Roll wrappers and the egg in the cheese sauce are the only ingredients that need to be cooked. So 20 minutes will do quite nicely.
In the recipe, you will see how important it is to have extra foil to pull up over the sides. Not just to prevent spills, but also to help you roll the lasagna. It is not difficult, but it is a bit "stressy". Look. If you get to this point, and the lasagna is completely cooled, and you just can't do it… you do have options.
The Book-Fold: Slightly less coordination is required, but you need to have a really good eye. If it were paper, you would divide the paper into thirds and fold it into a tri-fold brochure. However, it is not paper, it is probably about 1.5-2 inches thick, so you can't divide it into proper thirds. The first fold will have to be smaller, and the last fold will have to be bigger to drape over the first one.
Fold 1-quarter of the lasagna into the center by lifting the foil and flopping it into place.
By the way, if this has built up your confidence, flip it the same way, two more times and you will have something very close to the originally intended roll!
Continue from the opposite side and flip more than 1-third, maybe 40% of the lasagna over your first fold. The top should completely cover the bottom 2 layers and you will have a nice, 6-layer lasagna that will absolutely appear "rolled."
The Bi-Fold: This one is much easier. Simply use the foil to fold the lasagna in half. It is still a very respectable 4-layer lasagna.
The Don't Tell Me What To Do: There are those among us who resist. I get it. Wait for the lasagna to cool and transfer it to a cutting board. You can divide it with a pizza cutter and stack the pieces on top of each other. Sheesh.
If you do go boldly and complete the roll, you will be rewarded. It is a visually stunning presentation. The convenience of slice-and-serve. And a super-short, 20-minute cook time, you are certainly enjoying Simply Better Living.
Lasagna Roll
A comfort classic with mindful touches and a big twist at the end!
Cheese Sauce
2 whole Eggs
2 springs Fresh Basil
15-16 oz Ricotta Cheese (Whole, Part-Skim or Skim)
1 pinch Salt
1 pinch Fresh Nutmeg, Grated
Lasagna
8 sheets Spring Roll Wrappers
1 jar Tomato Pasta Sauce (24 oz) (Highest quality with the least ingredients)
1 bag Frozen Meatballs, defrosted, and smashed (Gluten-Free, Turkey optional)
16 oz Shredded Mozzarella Cheese (or Italian Cheese Blend, Extra Cheese Optional)
1. Add all of the ingredients for the Cheese Sauce into the blender. Blend until smooth and the basil is broken down well. Check the seasoning and blend again. Set aside, you will be pouring straight from the blender container.
2. Line the Broiling Pan with extra aluminum foil so that you have at least 2 inches overflow on all sides. For the time being, gently wrap the excess around the bottom of the pan, but be careful since you will need to pull it up like a collar before putting it in the oven. Use a generous amount of non-stick spray.
3. Line the Broiling Pan with 4, overlapping Spring Roll Wrappers as shown.
4. Gently brush on half of the tomato sauce to cover the bottom.
5. Add half of the crumbled meatballs evenly.
6. Add half of the shredded cheese.
7. Drizzle half of the Cheese Sauce mixture evenly over the top.
8. Cover with 4 more Spring Roll Wrappers, and brush with the remaining tomato sauce.
9. Add the remaining crumbled meatballs and some of the remaining shredded cheese. Reserve some for the very top later… we are building a layer that will seal.
10. Drizzle the top with the remaining Cheese Sauce and sprinkle the last of the shredded cheese on top for color and structure.
11. Lift the spare aluminum foil around the tray to form a collar. It will prevent spills, prevent ripping, and assist in the rolling later.
12. Set the oven to BAKE @ 485 degrees F and set the countdown timer for 30 minutes. Check at 20 minutes. Total cooking time should be about 25 minutes. I went a little dark with mine at 23 minutes.
13. Remove from the oven and allow to cool. Once it is comfortable to handle, use the foil to roll the lasagna in the Broiler Pan. Fold the ends up neatly and let rest in the refrigerator to set. Alternatively, you could simply fold the lasagna in half for a more simple presentation.
14. Once cooled and set, trim the ends and slice your desired servings. Cover in plastic wrap and return the unused portion to the refrigerator. You can also individual wrap all slices for the freezer.
15. Serve with extra sauce.